Location, payment plans, maps, and features
Discover the Opulence of New Lahore City Smart Living Block – A Luxurious Real Estate Gem
Experience luxury living at its finest with New Lahore City Smart Living Block, an expansive residential venture that stands among Pakistan's premier real estate projects. Boasting LDA approval, this prestigious housing society is strategically nestled along the main Canal Bank Road, commanding a sprawling land expanse. Choose from an array of residential plots, ranging from 3 Marla, 5 Marla, to 8 Marla, and embrace a lifestyle of opulence.
New Lahore City's strategic location, coupled with its cutting-edge infrastructure and rapid development pace, presents an unparalleled investment prospect for astute entrepreneurs. This visionary project seamlessly combines essential amenities with lavish indulgences, offering residents a holistic living experience.
Whether you're a discerning buyer seeking affordability or an investor eyeing exceptional returns, New Lahore City is the epitome of versatility. With ongoing development and ready possession of a majority of plots, this endeavor ensures the timely fulfillment of your aspirations. Situated in a serene enclave rich in amenities, it's the ideal retreat for those craving tranquility without compromising on convenience.
Location Highlight
Smart Living Block has been launched at the prime location of Phase 4 of New Lahore City. Phase 4 is connected to Canal Road, making society more accessible. Additionally, a separate entrance will be available for residents purchasing their plots in this new smart block.
6 km from Shahkam Chowk
A 10-minute drive from Ferozepur Road
A 15-minute drive from the M2 interchange
A 20-minute drive from DHA Lahore
A 25-minute drive from Lahore Airport
A 3-minute drive from Main Multan Road
New Lahore City Developers:
New Lahore City emerges as a stellar housing initiative by the esteemed Zaitoon Group, a prominent name in Pakistan's real estate sector. With a track record of triumphant residential and commercial undertakings, the Zaitoon Group continues to redefine success through their latest venture – the captivating New Lahore City Smart Living Block.
As a trailblazing force in administration and project management, the Zaitoon Group's reputation shines as brightly as its commitment to customer care and satisfaction. Their legacy of excellence sets the stage for yet another remarkable achievement within the New Lahore City landscape.
Smart Living Block Payment Plan
A total of 3 plot categories are offered in this smart living block which are 3 Marla, 5 Marla, and 8 Marla. The payment plan is as follows: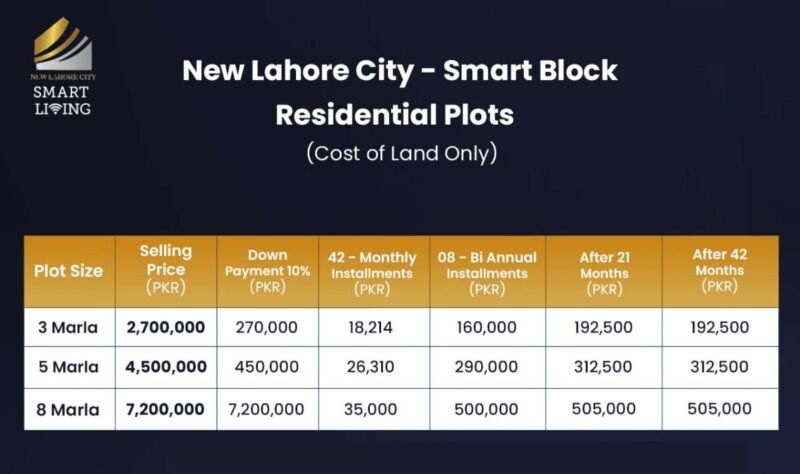 Investment Options in New Lahore City
New Lahore City invites investors from different commercial sectors to build their own outlets. A large number of plots are available in different sizes to meet the requirement of the retail commercial:
Education (schools, colleges, university campuses)
Finance (banks, financial institutions, corporate offices)
Health Care (Hospitals, Clinics, Lab collections centers, Pharmacy)
Family Entertainment (Restaurants, Shopping Centers, Cinema Halls)
Retail Businesses (Mega Stores, Food & Beverage outlets, Fashion outlets, Telecom franchises)
Why Invest In New Lahore City Smart Living Block
Zaitoon Group is a reputable developer with 32 years of experience delivering high-quality developments in commercial and residential projects. The high-end, affordable property is easily attainable via a convenient installment plan spanning 42 months. The project has been approved by the Lahore Development Authority (LDA), ensuring a safe investment opportunity. Some prominent points are:
Amazing Location
High Standard Development
Well-Planned Community
Developed Unique Ideas & Concepts
Affordable Plots' Prices
Promising Future Returns
Legal & Exclusive Status