Location, payment plans, maps and features
Tower 71 Luxury Apartments is an exclusive project situated in the highly sought-after location of Main Canal Road Lahore. It boasts state-of-the-art features and amenities, designed to offer an unparalleled living experience.
The project has been meticulously planned with a fresh perspective on luxury and comfort, ensuring that residents enjoy a lavish lifestyle. With the best apartments for sale in Lahore, Tower 71 offers a unique opportunity to invest in a world-class property.
Construction Zone, a reputable developer with a proven track record of delivering high-quality projects, is behind this exceptional development. The company is known for its commitment to excellence and attention to detail, ensuring that each project is executed to the highest standards.
If you're looking for luxury apartments for sale in Lahore, Tower 71 is the perfect choice. With its prime location, top-notch facilities, and reputable developer, this project offers the ultimate in luxury living. Don't miss the chance to be a part of this exclusive community – contact us today to learn more.
Location Of Tower 71: 
The location of a real estate project is a critical factor in making an informed decision. LandView Properties understands this, and that's why they have carefully chosen the perfect location for their latest development. Situated on Main Canal Road, near Bahria Town Lahore, this project promises to be a highly profitable investment opportunity.
Tower 71 is conveniently located adjacent to some of Lahore's most popular residential areas, including Bahria Town, LDA Avenue 1, and Wapda Town. This prime location offers easy access to Thokar Niaz Baig, Raiwind Road, and Ring Road Lahore, making it a highly accessible and well-connected development.
Project Plan:
Tower 71 Lahore features residential apartments, including studio apartments, 1 Bedroom apartment, and 2 Bedroom apartments. You can book your Apartment through LandView Properties according to your interest.
Car Parking in basement
Commercial on Ground
Ground + Six Floors = Total 7 Floors
Tower 71 Luxury Apartments offers a range of living spaces that cater to diverse needs and preferences.
Studio Apartments:
The studio apartments in Tower 71 feature a well-designed living and bedroom space with a washroom, a well-equipped kitchen, and a spacious balcony. These apartments are perfect for singles looking for a comfortable and convenient living space.
One-bedroom Apartments:
The one-bedroom apartments in Tower 71 feature an attached bathroom, a well-equipped kitchen, and a comfortable living and dining space that opens up to a spacious balcony. These apartments are ideal for individuals or couples looking for a cozy and stylish living space.
Two-bedroom Apartments:
The two-bedroom apartments in Tower 71 feature a spacious living and dining space, a well-equipped kitchen, and a large balcony. Whether you're looking for a residential or commercial property, investing in a two-bedroom apartment can be a wise decision. Contact us to learn more about our two-bedroom apartments.
Three-bedroom Apartments:
The three-bedroom apartments in Tower 71 are designed for those seeking a luxurious and spacious living space. With high-end finishes, modern amenities, and breathtaking views, these apartments offer an unparalleled residential experience that combines comfort and style.
Commercial Tower 71:
Tower 71 also offers a commercial space designed for businesses that prioritize growth and success. The Commercial Tower 71 is equipped with modern technology and advanced amenities, providing an ideal platform for collaboration and innovation. Its prime location, along with its dynamic and conducive environment, make it an excellent choice for companies looking to establish their business in a vibrant and thriving community.
Installments Plan:
The prices of Tower 71 are retained reasonably to facilitate everyone, and these reasonable price effects are absolute a significant attraction to consider. The lowest prices options are available, but easy payment plans facilitate everyone equally. Tower 71 payment plan based on an installment plan of 3 Years and gets possession in 2 years. Below you can check out the payment plan for this Apartment.
Here is a detailed payment plan: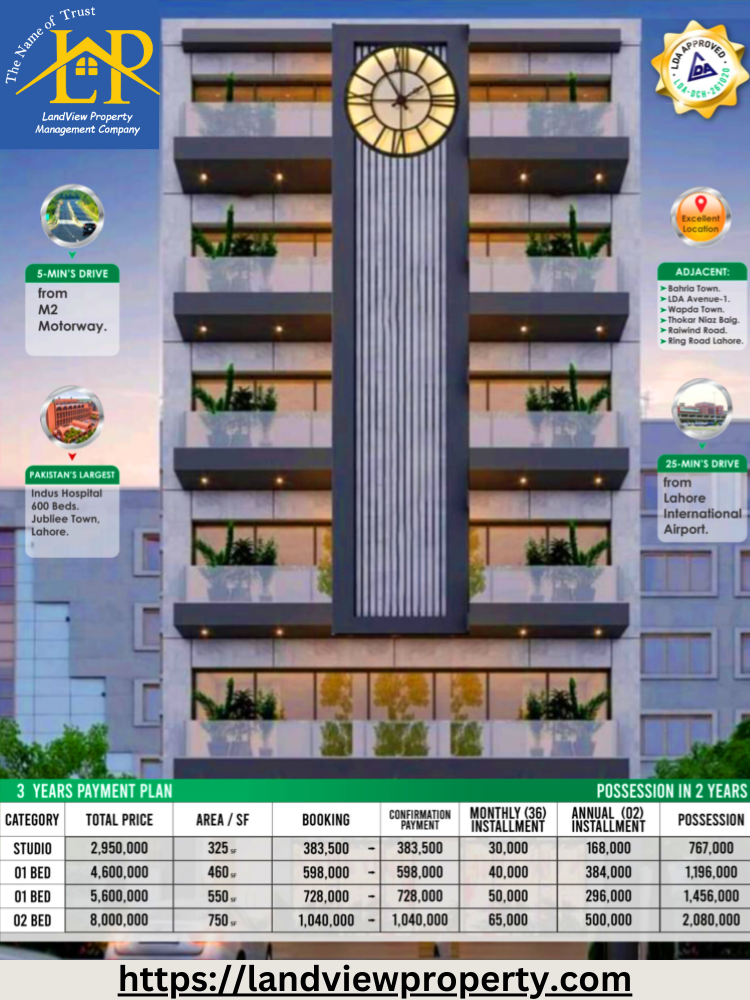 Amenities:
Tower 71 is full of amenities projects with bundles of attractions. In other words, it is a fully-automated project like their previous development. Some of the top-class features and amenities coming in this fabulous project are:
24/7 Maintenance Staff
24/7 Security
Car Parking
CCTV System To Ensure Security
Daycare Center
Fire Fighting & Alarm System
Lift Lobby Executive Lounge
Reception
Shopping Area