Location, payment plans, maps, and features
Welcome to LandView Properties, a renowned real estate firm that specializes in bringing the most exceptional projects to its investors. We take great pride in our commitment to delivering quality developments that offer unparalleled opportunities. One such project that we are thrilled to present is the highly anticipated Blue World City Islamabad.
Blue World City Islamabad: A Visionary Housing Society
Situated along the Main Chakri Road, adjacent to the Lahore – Islamabad M2, Blue World City Islamabad is poised to become a marvel in the twin cities. This visionary housing society aims to integrate world-class civic amenities, setting a new standard for residential living. With life-size replicas of global icons, including the iconic Burj Al Arab, Blue World City Islamabad offers a unique experience that is truly one-of-a-kind.
Location Advantage: Proximity to CPEC and Islamabad International Airport
Strategically positioned in close proximity to the China-Pakistan Economic Corridor (CPEC), Blue World City Islamabad presents an extraordinary opportunity for residents and investors alike. Additionally, its convenient location near the new Islamabad International Airport further enhances its appeal. This advantageous placement ensures unparalleled accessibility not only to the twin cities but also to the entirety of Pakistan.
BWC Owner & Developers
Blue World City, developed and owned by the renowned Blue Group Of Companies (BGC), stands as a testament to excellence in the real estate and construction industry. Led by Mr. Saad Nazir, a visionary entrepreneur known for his unwavering principles and dedication, BGC has been a prominent player since its establishment in 1989. Today, it ranks among the top 5 real estate development companies in Pakistan.
Exceptional Ventures by Blue Group Of Companies (BGC)
With a rich portfolio of remarkable projects, Blue Group Of Companies (BGC) has carved a niche for itself in the industry. Notable ventures include PIA Co-operative Society, Blue Mart, Blue Technologies, Blue Town Sapphire, and Center Park Lahore. Each project reflects the company's commitment to delivering quality and innovation.
Unparalleled Collaboration for Blue World City
Blue World City Owners & Developers have partnered with Shan Jian Municipal Engineering Company, a world-class engineering firm known for its professionalism and unique design and construction standards. This collaboration ensures that Blue World City will emerge as a leading and advanced society, offering high-class features and top-notch infrastructure.
Blue World City Master Plan
Blue World City Masterplan is a flawless, well-designed, and well-executed plan that was created with the cooperation of renowned national and international developers, utilizing the most up-to-date concepts of urban town planning.
Sehal is the blue World City's Moza village. Blue World City's master plan divides the area into residential plots, farmhouses, and commercial plots. However, the size and categorization of these plots differ depending upon the block.
Blue World City Islamabad has acquired 5000 Kanal and the whole area will be divided into blocks and plots. As per the masterplan and its execution, the sizes of plots of residential, farmhouses, and commercial are as follows:
Residential Plot Categories:
05 Marla
08 Marla
10 Marla
1 Kanal
2 Kanal
Blue World City Farmhouses plots:
Blue World City Commercial plots:
Blue World City Overseas Block plots:
7 Marla
10 Marla
14 Marla
1 Kanal
As per this master plan, there will be a predetermined quota for general and public workers shortly, which has not been announced yet. Moreover, there will be an extensive network of carpeted pathways linking all parts of BWC as well as linking society with the twin cities. There will be a 120-foot-wide Main Boulevard, 80-foot-wide main roads, and 40-foot-wide streets will be a prominent part of the housing society.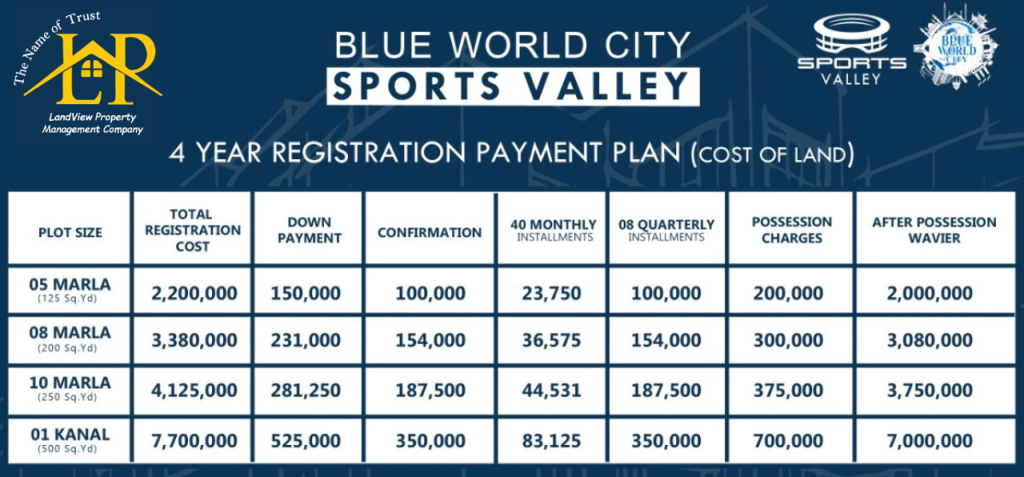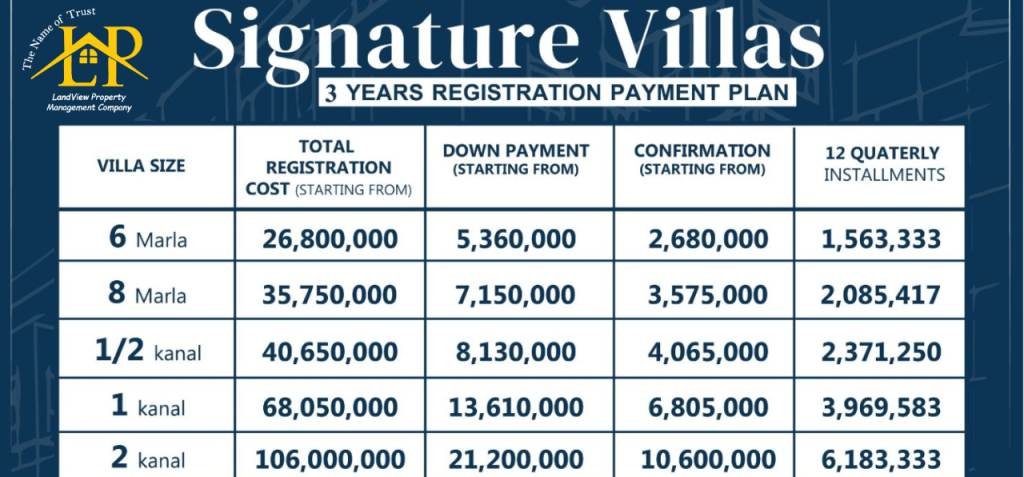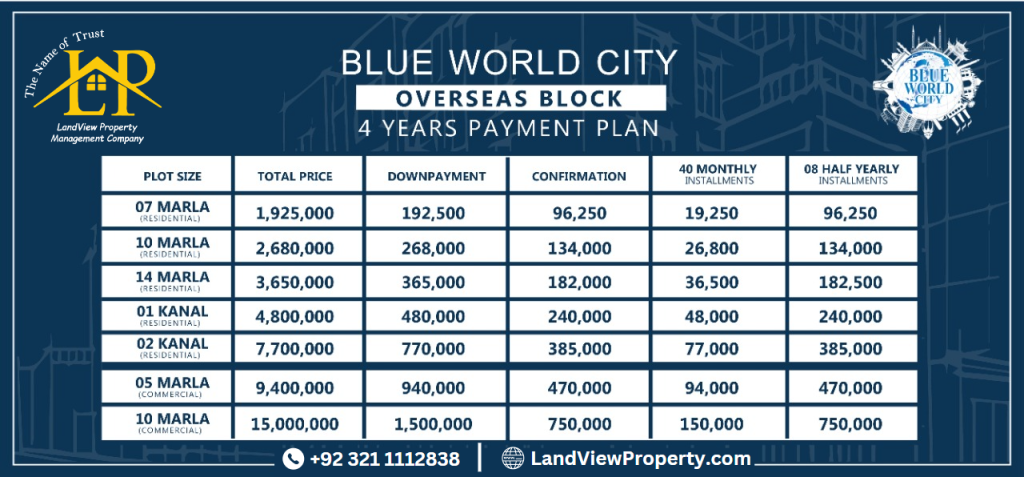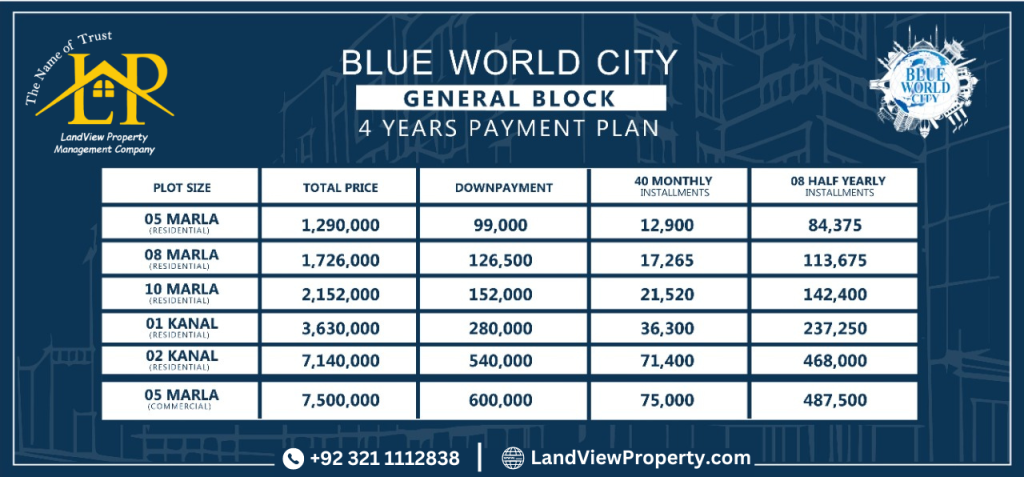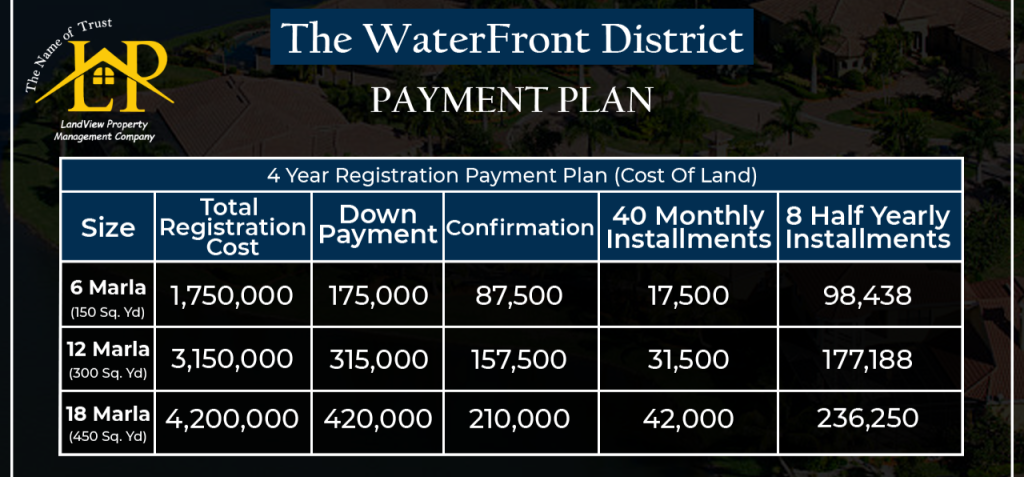 BLUE WORLD CITY NOC
Recently, the management of this society has announced that Blue World City is now District Council-approved Project. As per Local Bodies Ordinance 2021, signed on 11 December 2021 (issued by Governor Punjab), the NOC's of all residential societies are to be issued by the District Council Rawalpindi, whereas Blue World City Islamabad has been granted NOC by the District Council. The legal status of this society is quite satisfactory now!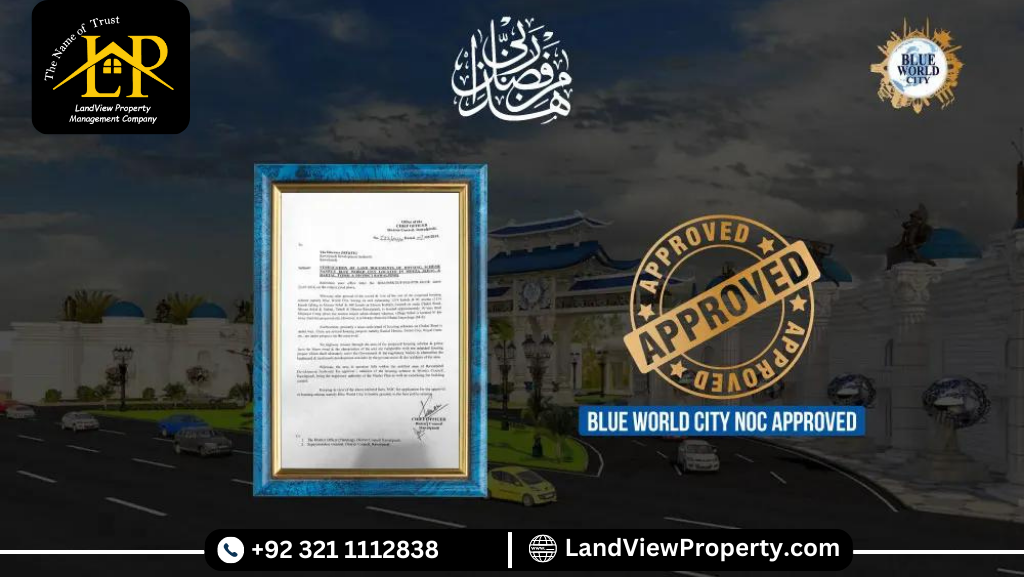 Blue World City Location & Map
BWC is located at the helm of 4 major megaprojects of the twin cities. The Blue World City is located on the main Chakri road in MozaSihal. Apart from main access from Chakri Road, the BWC is located at the edge of the Lahore – Islamabad Motorway enjoying close proximity to the CPEC route, New Islamabad International Airport, and the Chakri Interchange. The developers of BWC are set to develop this project on more than 60000 Kanals which has enough room to create access from all major roads of Rawalpindi and Islamabad in the future. The Blue World city location and map are readily available and you can download the BWC Map by clicking here. Also, BWC is the only housing society in the region that enjoys close proximity to the proposed upcoming Rawalpindi Ring Road. The Rawalpindi Ring Road is a 66-KM long project that will connect the GT road at Rawat to Sangjani Toll Plaza and New Islamabad Motorway. The Rawalpindi Development Authority also has plans for multiple special economic zones along the Rawalpindi Ring Road. This means that after the completion of Rawalpindi Ring Road, Blue World City Islamabad will be one of the only societies that will be the nearest to be able to make an interchange from it. Apart from major accesses, the BWC is located near Capital Smart City, Qurtaba Township, and Eighteen Islamabad, etc. Blue World City map and location are indicative of the fact that this will be one of the largest housing societies in Islamabad.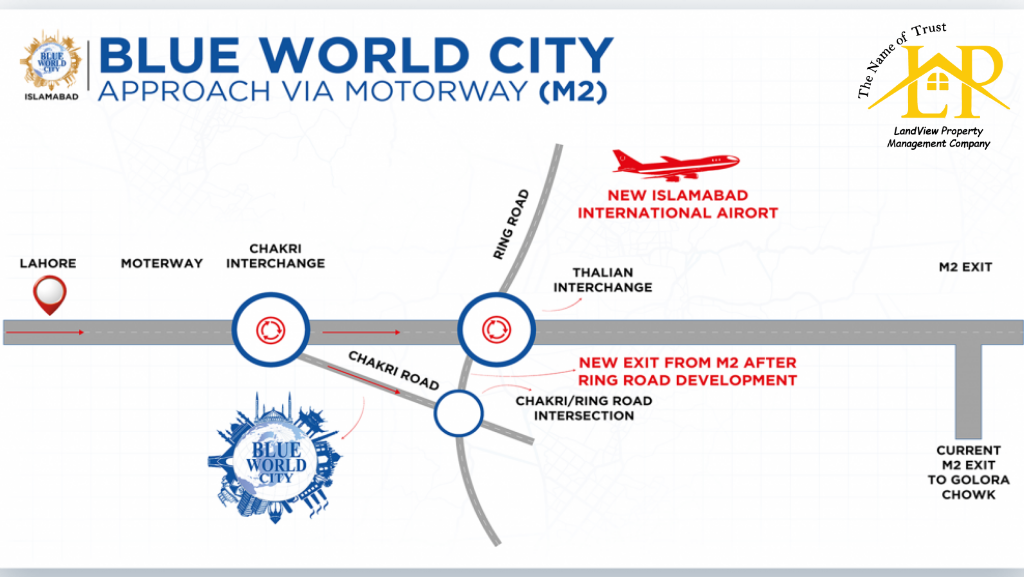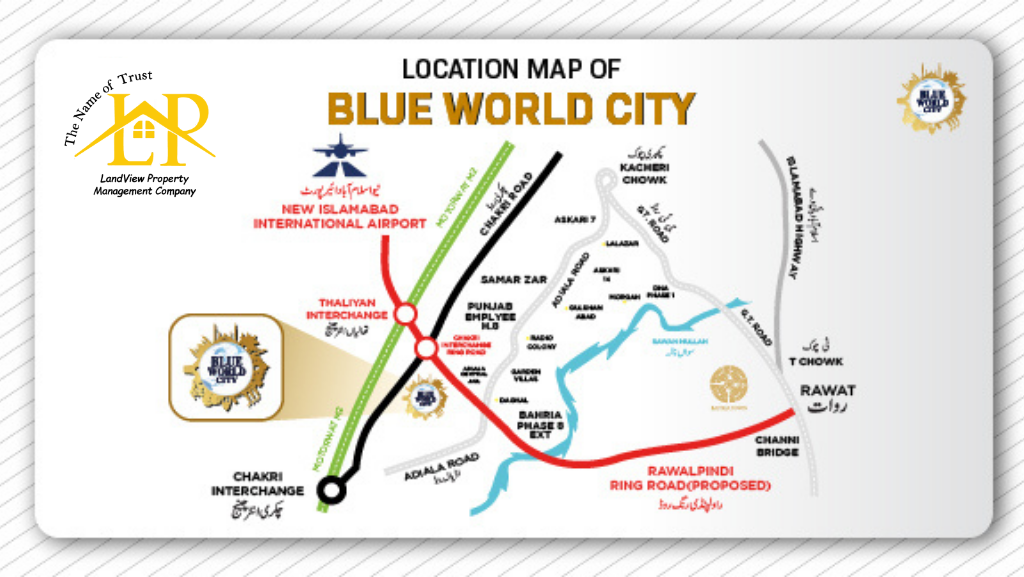 Amenities:
Water, Gas & Electricity
Developed at a rapid pace, Blue City Islamabad has worked tirelessly to ensure 24/7 availability of adequate resources such as Water, Gas, and Electricity for the residents. Moreover, underground electricity lines have been installed to provide a consistent supply of energy to the residents
Commercial Hub
BWC  presents a brilliant opportunity for massive profits. As the CPEC routes are in close proximity, it has the potential to transform into the next commercial hub of the country. It is an opportunity to enjoy a commercial interaction with different communities like Chinese and overseas Pakistanis
Schools Hospitals & Police Stations
Schools, Police Stations, and Medical facilities have been abundantly included in the Blue World City Master Plan. Located near main Islamabad City, this project has all the necessary & basic facilities available to the residents including a 40-bed Hospital facility of international standards.
Biggest Water Theme Park
Water Parks are known for their vivacious jubilance and extreme excitement.  BWC is changing the tradition and building Pakistan's biggest theme park compliant with international standards. It will include multiple features promising visitors and residents a quality time of their life.
24/7 Security and Surveillance
With an advanced 24/7 Security and Surveillance system, this society is one of the safest and most secure housing societies in the country. The security staff employed for the protection of residents include trained and experienced professionals ensuring that all security standards are met.
Mosques & Islamic Architecture
Jamia Mosques have been built throughout society to represent a symbol of Muslim unity. Moreover, Islamic Architecture has also been keenly promoted with the construction of Istanbul's Blue Mosque Replica. This project serves as a symbol of our Islamic Values and the Glorious Ottoman Empire.
Wide Roads & Public Transport
BWC Chakri Road plans to provide a network of roads and an internal transportation system to ensure maximum convenience for its residents.  The main boulevard is 120 feet wide. All the streets of the town are 40ft, and roads are 80-100 feet. There will be separate pathways for pedestrians and cyclists.
Parks Sports & Cultural Complex
BWC includes beautiful parks, sports facilities, and a cultural complex. Environment-friendly Parks such as Oxygen Park will provide a natural place for physical training and outdoor activities. Sports and Cultural Complex will promote cultural harmony and diversity, given that the Chinese would also be residents of the city.
Entertainment & Adventure
With prolific entertainment opportunities, the BWC will introduce 3D I-max cinemas. The Adventure Club would double up the thrill with activities such as horse riding, hiking, paragliding, etc. A Safari Zoo is also being planned with a multitude of exotic Safari Animals from all around the world.